Allows the user to edit the Raw Description of Multiple Points, adding or removing the String Parameters.
To add or remove a String Parameter, simply check or uncheck the box for the appropriate parameter. For example, clicking on the 3pt Arc button will cause the .F parameter to toggle on or off. If the Apply to All is on, then the selected parameter is applied to all of the selected points. If it is not ticked, then only the currently highlighted point is affected.
You can manually alter the codes in the Text Edit box as well. Elevations and Point Numbers can not be altered.
Refer to String Parameters section below for explanations of these options.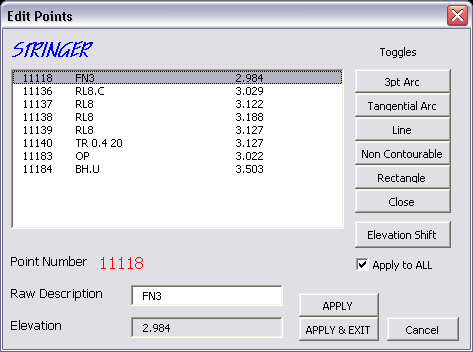 Altering the parameters will cause the program to search for effected polylines, erasing the old polylines and reprocessing the code effected. This is referred to as Interactive Editing.
You must click on the Apply button for the edits to take effect. Pressing Exit does not automatically apply the changes.
Elevation Shift
Pressing the Elevation Shift button reveals the Elevation Shift entry box. Enter the amount that you wish to alter the current elevations by. Again, the changes are not applied to the drawing until you press Apply, although the elevations in the display will reflect the change. Press the escape key to cancel the elevation shift entry.